Impact of community cooking classes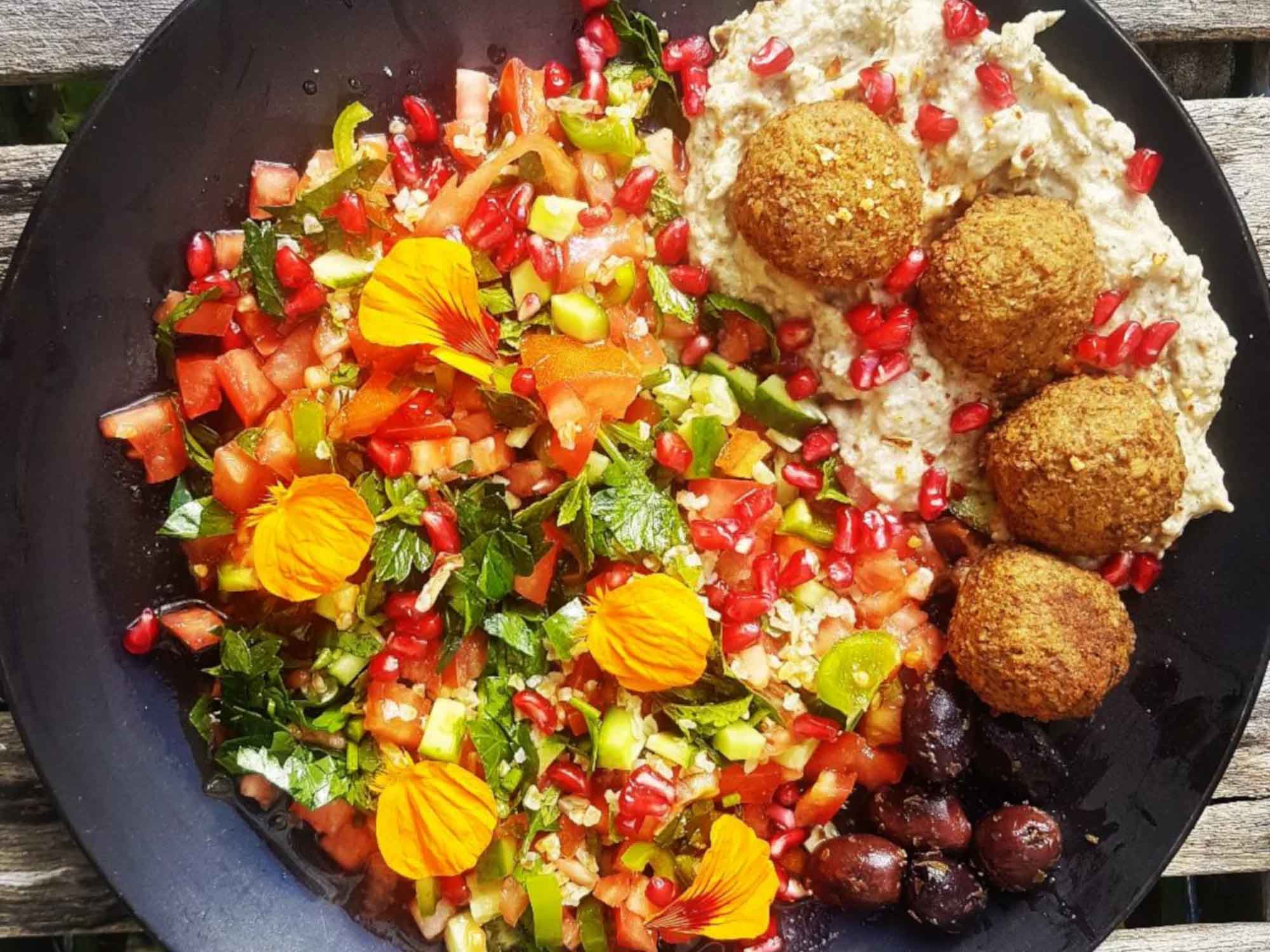 Throughout Global Plant Kitchens we share why a vegan cookery school can be beneficial to your community and exactly what one looks like. Don't just take our word for it though – we spoke to Maresa Bossano from LOVE Food CIC in Exeter, England, about their vegan community classes and the impact that the classes have to inspire you to take the first steps towards creating your own programme of community cooking classes.
The LOVE Food model
The LOVE in Love Food stands for Local, Organic, Vegan and Ethical – all commitments that are central to the services that the community interest company (CIC) run. LOVE Food's community cooking classes provide accessible and educational opportunities for participants to cook cheap and healthy food. The classes are designed to suit each group or theme, for example salad dishes using produce from a local garden or a healthy eating for menopause workshop featuring a winter taboulleh, tahini dip and Greek bean salad.
Impact of community cooking classes
To create impact as wide as possible they work with other organisations and groups who already work with people in the community. For example, they partnered with CoLab Women's Project for women who've experienced domestic violence – where they made smoothies and tofu and vegetable salad with peanut sauce, which participants liked as some only had microwaves and not cookers. LOVE CIC has also done classes for NHS staff, students, adults and young people with mental health issues referred by Wellbeing Exeter, males in temporary housing referred by Bournemouth Churches Housing Association. The impact of such partnerships typically means creating a more bespoke service as well as gaining the trust and recognition from other organisations and their service users.
A core impact of community cooking classes will always be improved dietary and health outcomes. Maresa told us "so far everyone who has attended our community classes has rated them excellent or very good, and all have said they would attend more classes. Most people have said they're likely or very likely to eat more wholefoods as a result of attending the classes. Many people have said they now have more confidence cooking from scratch."
Inclusive over didactic education 
Similar to Made In Hackney, LOVE Food do not preach about the vegan aspect of their programme. Instead they let the results speak for themselves. One participant said that "Maresa made the sessions accessible. I really enjoyed learning how to bring a number of plant based dishes together."
The classes also focus on low impact and sustainable foods and techniques as parts of the wider conversation around the necessary reforms of the global food system which needs to shift away from animal agriculture, processed and packaged foods. One participant specifically said "I liked that it was mindful of waste and sustainability was heavily considered. I've already remade the recipe at home and I'm sure it'll become a regular in our house."
Making every day changes at home should be one of the central impacts to any community cooking school. People do not come to community classes to learn fancy techniques (although they might!) but to gain knowledge and experience in food preperation, cooking and sometimes growing, to enable them to make more sustainable food choices – for their health, their budget and the wider community.
Maresa's top tips for anyone that wants to start a vegan community cooking school is "to link up with other local community organisations in order to reach the right people, and to keep it simple using tried and tested recipes, you can run in any venue and don't need a really fancy kitchen to get going." At Made In Hackney we certainly agree with that!
More stories like this one: