Creating food systems change in Peru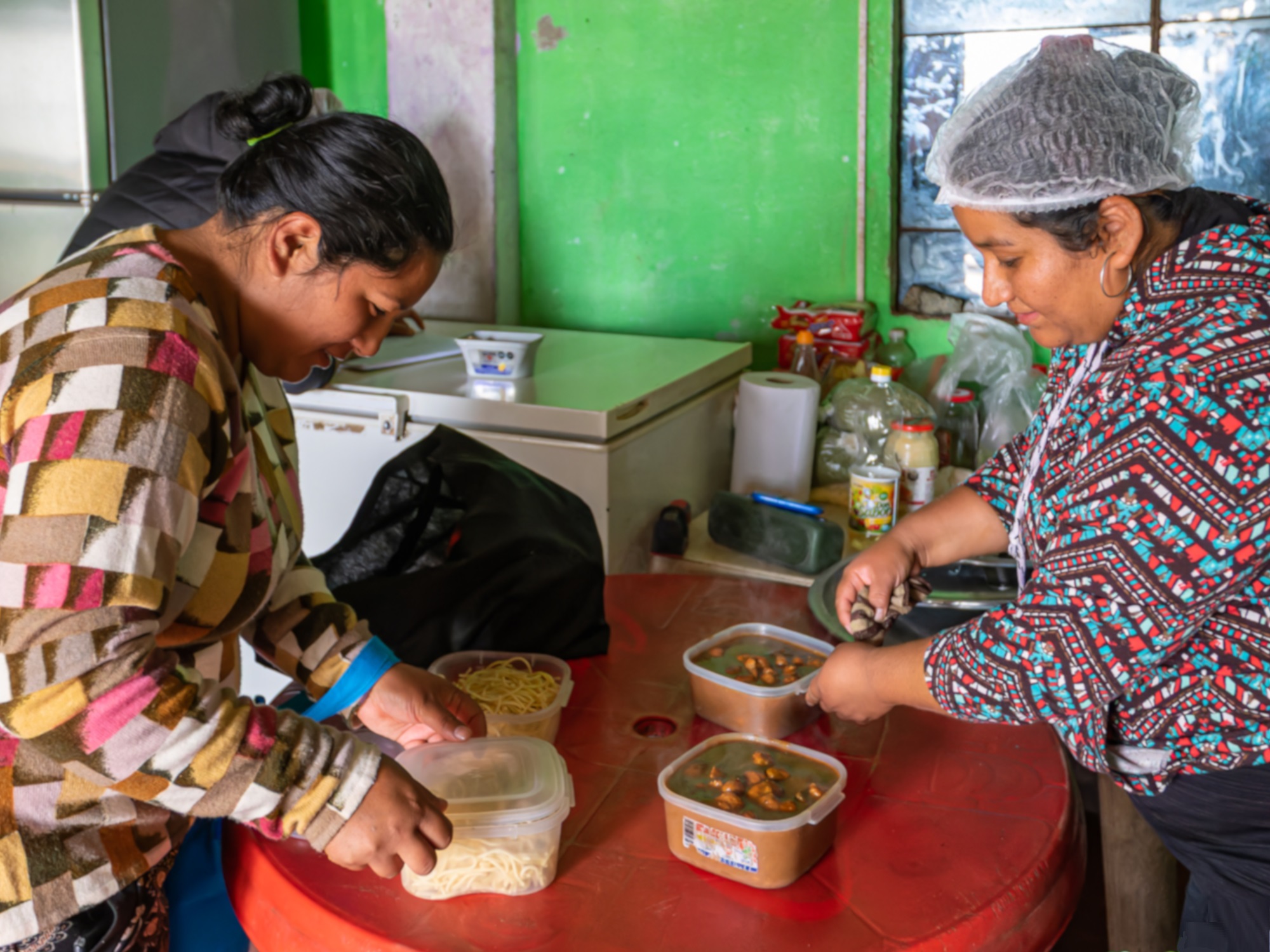 In Peru, community kitchens have been a central part of life for decades. We found out more from Ollas Comunes Veganas (OCV) who have inspired us with their aim to widen the focus of plant-based meals in these kitchens.
Community meals in Peru
Ollas Comunes Veganas in Lima was founded in 2021 to address national food insecurity by educating the leaders of Peru's more than 13,000 community kitchens to prepare economical, sustainable, nutritious, and sanitary plant-based meals.
Food insecurity in Peru is a direct outcome from colonisation. Prior to colonisation the traditional practice of central storage management of food to avoid scarcity meant that people did not go hungry. There has always been a tradition of reciprocity, community and mutuality which has been central to the growth of Peru's community kitchens. In more recent times the startling pace of urbanisation has put extreme pressure on the food system's ability to feed a growing population. Coupled with the price of food becoming unaffordable to many, there is a greater need than ever for community food initiatives.
Community kitchens have sprung up in their thousands across Peru – the country with the largest number of community kitchens in the world. These are typically simple kitchens run by local women, who pooled resources together to offer affordable, nutritious food to ensure that nobody starved to death and could eat affordably and nutritiously. The women who run community kitchens have come to be known as agents of struggle for food security, sustainable food policy, progressive change for the good of their communities, communal cohesion, development and human rights. In a nutshell, these are more than community kitchens. They are a defining cultural institution, integrated into every aspect of life, and an authentic representation of where the human race may be headed as we seek to build a healthy and sustainable planet for all.
Addressing food insecurity through plant-based food
OCV is a fully vegan community kitchen. They aim to educate the food insecure in Peru to understand the benefits of plant-based food including fewer issues with refrigeration and sanitation, budget, provisions, health and nutrition, waste disposal, environmental impact, and no cruelty to animals.
OCV is a 100% volunteer organisation which provides hands-on volunteer assistance to hard-to-reach kitchens precariously located on the steep hillsides on the outskirts of Lima. They also host fundraising activities such as training events, vegan food festivals and plant-based cooking classes to promote the many benefits of a plant-based diet.
90 volunteers support 25 of Lima's 3,000 community kitchens at one time to create more plant-based options. The training programme includes recipes and ingredients and plant-based nutrition classes. Some groups also receive help to start an urban garden and there are plans evolving to build smokeless adobe stoves.
The OCV programme specifically supports community kitchens who want to learn to prepare vegan meals. There is considerable demand for this as more people understand the benefits of this approach and there is currently a waiting list to get involved.
Community kitchens are not just about nourishment and affordability. OCV shares that some of life's most enduring values – selflessness, generosity, and activism – are central to their activities and encourages everyone to eat at a community kitchen to experience this. Community kitchens bring people together and collective action is what is needed to create a more equitable global food system for all.
If you're ready to create change by establishing a community kitchen register for Global Plant Kitchens now.
More stories like this one: